---------- Forwarded message ---------
From:
PA Family Institute
<mail@pafamily.org>
Date: Fri, Jul 19, 2019 at 3:35 PM
Subject: Trump's Protect Life Rule and Planned Parenthood's political agenda
To: Kelly Horning <
philandkelly@gmail.com
>
Hawkins | Centofante | Klusendorf | Musgrave | Geer
Life Action Conference - July 23-24, 2019 - Lancaster, PA
Register today: pafamily.org/lifeaction2019

FINAL DAY to register for the Life Action Conference!
Today is the final day to register for this can't miss event!  Click here to register or for more information on the specifics of the conference.  We would love to see you come out for this event!  
A big announcement will be made during the conference...so stay tuned!  
PFI in Lancaster News piece on Trump administration's Title X rule 
On Monday, the Trump administration informed taxpayer-funded family planning institutions that they are no longer allowed to refer for abortion-related services and receive federal funding.  Title X, through independent clinics all over the nation, serves about four million women every year, and federal law does not allow any of the funds to go directly toward abortions.  With this new rule, anyone receiving federal funding for family planning services are not allowed to refer for an abortion.  
Planned Parenthood, the largest abortion business in Pennsylvania, had been one of those receiving this federal funding and will now have to withdraw from the Title X program in order to offer their abortion-centered services.  Governor Wolf, in a written statement, expressed his disappointment with the new rule saying that it "keeps women from getting access to information about their health care."  
The Trump administration's Protect Life Rule is a step forward for the pro-life movement.  
Here's PFI President Michael Geer on the Protect Life Rule:
"Polls consistently show that a majority of Americans don't want their tax dollars used to perform or refer for abortions. And yet, for decades groups like Planned Parenthood have played a deceptive shell game with taxpayer dollars, freeing up money for them to promote and perform abortions. The result is that Planned Parenthood gets roughly $60 million per year through what has become a slush fund for the abortion giant. We applaud the Trump administration for taking action to finally bring this unjust practice to an end."
Click here to read the full article from Lancaster online. 
Planned Parenthood: Aiming to get more political with changes in leadership
Dr. Leana Wen, former President of Planned Parenthood, was released from her position as the organization's head on July 16 due to "philosophical differences" over the future direction of the company.  In a personal statement to colleagues via twitter, she stated that "the new Board leadership has determined that the priority of Planned Parenthood moving forward is to double down on abortion rights advocacy."  Not only are they responsible for half of the abortions that take place in Pennsylvania and thousands elsewhere, but they have shown that they are willing to phase out anyone who is not fully committed to pushing their political agenda.  
Planned Parenthood Pennsylvania Advocates (PPPA) just announced a new Executive Director on July 10 as well, Ashley Lenker White, who comes from seven years working with the Pennsylvania School Boards Association (PSBA).  PSBA has long opposed parental choice and rights in education, exposing yet another area where Planned Parenthood and others seek to infiltrate the system, override the voice of parents, and push their political/reproductive health agenda. 
City on the Hill 2019
City on the Hill is this coming week, and our staff is looking forward to spending time with and educating the great young adults who will be attending.  Follow PFI on social media for updates from this great week and thank you for your prayers on behalf of both our students and staff!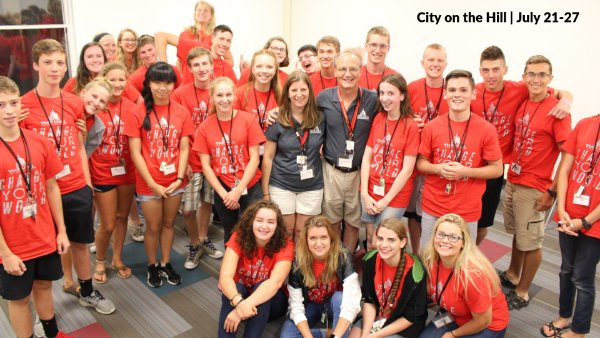 Matching Grant Announcement - Donate Today!
We have an exciting opportunity of a 1-for-2 matching grant from a generous family foundation – which means that any gift you make or send now, and through September 1 will be matched, up to $50,000 and will go directly to our pro-life, pro-family work! Click here or visit https://pafamily.org/match/ to make a secure, tax-deductible online contribution, or call 1-800-FAMILY-1 and reference the matching grant to have your donation matched!